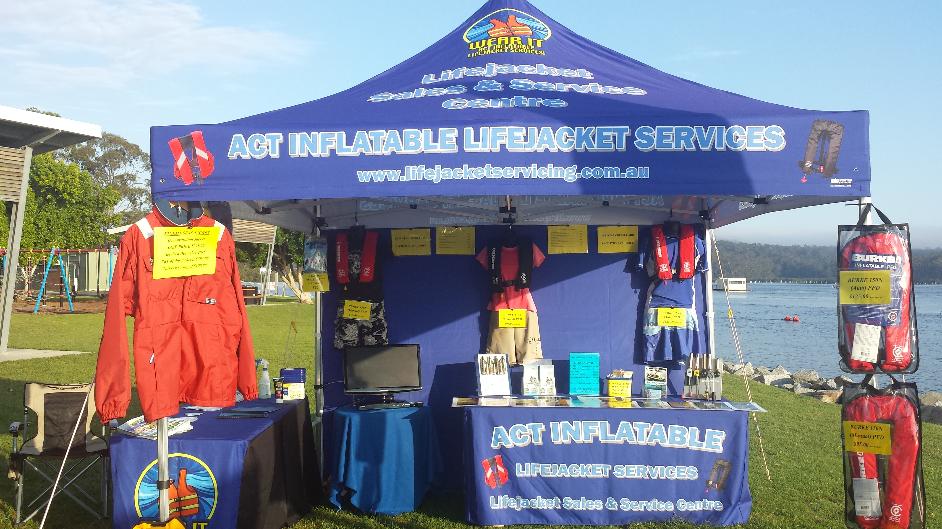 COVID-19
DUE TO THE CORONAVIRUS WE ARE STILL OPERATIONAL TO SERVICE YOUR INFLATABLE LIFEJACKET/S WITH RESTRICTED ENTRY INTO OUR WORKSHOP KEEPING OUR 1.5mt DISTANCE.
Well it looks like we can travel and holiday within NSW as of the 1st June 2020 and that will include taking the boat as well. Don't forget to dig out your inflatable lifejackets and ensure they have been serviced otherwise you could cop a nasty fine if not complaint. Check the Australian Standard marked on or inside the jacket and if it is around 10 years old it will probably be (AS-1512). If so you will only have until the 31st December 2020 to upgrade to the new standard of (AS-4758.1). I have plenty of new stock available now.
In stock now are BURKE, Manual and Automatic inflatable lifejackets. Don't forget to have your inflatable PFD/s serviced annually or as per the manufactures specifications or you could risk a heavy fine. As an authorised servicing station we will service your PFD/s to meet the Australian Maritime regulations. Loan jackets are available if you wish to leave your jacket/s with us for servicing. I have plenty of spares including various sizes of CO2 cylinders and water activated cartridges. Please be aware of the lifejacket laws throughout Australia in relation to the wearing and servicing of Inflatable lifejackets. Heavy fines can be issued if you are not compliant. This now includes Kayaks and Canoes once they are underway. If you require further information please don't hesitate to contact us on 0400078770. As an authorised servicing station we will service your inflatable PFD/s to meet the Australian Maritime regulations.
EDEN 42nd Annual Fishing Competition March 2020
A great week long fishing comp this year in 2020. I must thank all the committee for looking after us whilst at this years competition and a special thanks to Nicole & Jason at the Eden Beachfront Caravan Park for the accommodation again. Plenty of coffee and home cooked cakes. We will be attending the EDEN fishing competition again in 2021 for the 43rd Annual Fishing Competition. We will be setup at the Eden Amateur Fishing Club at Quarantine Bay Road Eden for the sales and servicing of inflatable lifejackets and spares. We will have PFD's on special both Manual and Automatic. Loan jackets are available if you wish to leave your jacket/s with us for servicing whilst out fishing. See you there again in 2021. You can forward jackets to us prior to the competition for servicing so if you get a few together the cost is minimal and we can then freight them back to you.
We are available to service your inflatable lifejacket now. So why not give us a call today and have it professionally serviced to meet the Australian Maritime regulations.
Please note that as of the 1st July 2016 the cost to service your inflatable lifejacket has increased to $40.00. Our prices have not increased in the past 5 years. This does not include any parts that may be required.
ACT Inflatable Lifejacket Services can supply and service most brands of inflatable lifejackets. Give us a call for a competitive quote on the sale of new lifejackets.
Our client base includes: Australian Federal Police Tactical Response Group, Environmental Protection Authority, Australian Transport Safety Bureau, Australian Maritime Safety Authority, Australian Fisheries Management Authority, Snowy Mountains Hydro Scheme, Waters NSW, ACT Rowing Association, Monaro Police, Southern Region RMS, local and interstate fishing clubs and the recreational sector.
Don't forget the NSW lifejacket laws for Alpine Waters. All persons on board a vessel less than 4.8mts in length must wear a lifejacket. Your inflatable lifejacket must be serviced and signed off annually or as per the manufacturers specifications. If inspected by Maritime or the Police and it has not been serviced you could receive an infringement notice.
As can be seen from the photos above leaking and damaged oral tubes. This is the reason jackets should be checked on a regular basis by either the owner or by a certified servicing agent. This is only a few of many faults that can be detected on a full service. ACT Inflatable Lifejacket Services is focused on providing high quality service and customer satisfaction. We will do everything we can to meet your expectations.
Inflatable lifejackets are becoming increasingly popular. These inflatable garments are lighter and less cumbersome than conventional foam lifejackets and are quite versatile. They're even made as wet weather jackets and windproof vests. However boaters should be particularly aware of the added maintenance requirements that come with this style of jacket as well as the need for detailed crew and passenger briefing as to their operation.
Care should also be taken when purchasing an inflatable jacket to ensure that it conforms to Australian Standards. Inflatable jackets conforming to Australian Standards must meet AS 4758.1 (Level 150 or Level 100) by the 1st January 2021; or some overseas standards. This will be clearly marked on the jacket. As our lifejackets spend much time in a harsh environment (particularly with saltwater boaters), it is mandatory that this style of jacket is serviced annually by an accredited service centre or the original manufacturer. This will ensure that the jacket is in good working order. When they are serviced, checks will be carried out to ensure the bladder, reflective tapes, buckles and straps are in working order, and that the inflation system and oral inflation tube are operating correctly. It is important that boaters check jackets regularly, prior to wearing. Make a visual check for damage and unscrew the gas cylinder to ensure it has not been pierced. If it has been pierced then replace it immediately. Without this occurring the jacket will not inflate. It is important that you ensure the cartridge is screwed in firmly. Cartridges can loosen from continual vibration whilst stowed in a car or boat. If a cylinder is loose, gas can escape through the thread upon activation.
Inflatable lifejackets are certainly very convenient but you must have your lifejackets serviced 12 monthly or as per the manufacturers recommendations. Penalties may apply.
Certified & Accredited with:
Stormy Seas, Burke Marine, Marlin Australia,
Jarvis Walker, Stormrider, AXIS, SOS Marine,
Spinlock, Hutchwilco, Shimano, Watersnake
and most other brands.